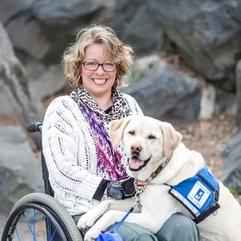 Jenny Peterson (she/her)
ECO Faculty
Professional Background:
As an author, artist, and executive coach, I support professionals to crush limiting beliefs, rediscover joy, and achieve their impossible. My background in positive psychology, fierce compassion and mindfulness allows me to convert science-based principles into practical application for life-changing transformation. 
My favorite coaching question is, "What makes your heart sing?" I've coached leaders and teams, helped entrepreneurs to engage with purpose and meaning, and worked with individuals to break through the outside noise to find their own, unique path. 
My success is a direct result of applying the same principles to my own life. At the age of 17, I became a quadriplegic due to a downhill skiing accident. I experienced the limits and stereotypes created by others. These untruths were creating self-limiting beliefs that I chose to shatter. In their place, I created a personal vision and life plan, one that reflects my true self . 
I consider joy a building block emotion that allows individuals to recognize and regulate a full range of emotions and unlock psychological and physical resiliency.
Why I'm part of CCO:
As a life-long learner, I share my love of knowledge in helping others learn the professional skills, ethics, and personal mastery of executive coaching. It makes my heart sing to mentor, support, and challenge students to find their coaching voice and unique approach so that they can create a dynamic business serving others. 
If we meet, you should ask me about:
My horse, Joy, and how we compete in three-day horse driving events.