CCO Executive Coaching in Organizations
Coach Training Program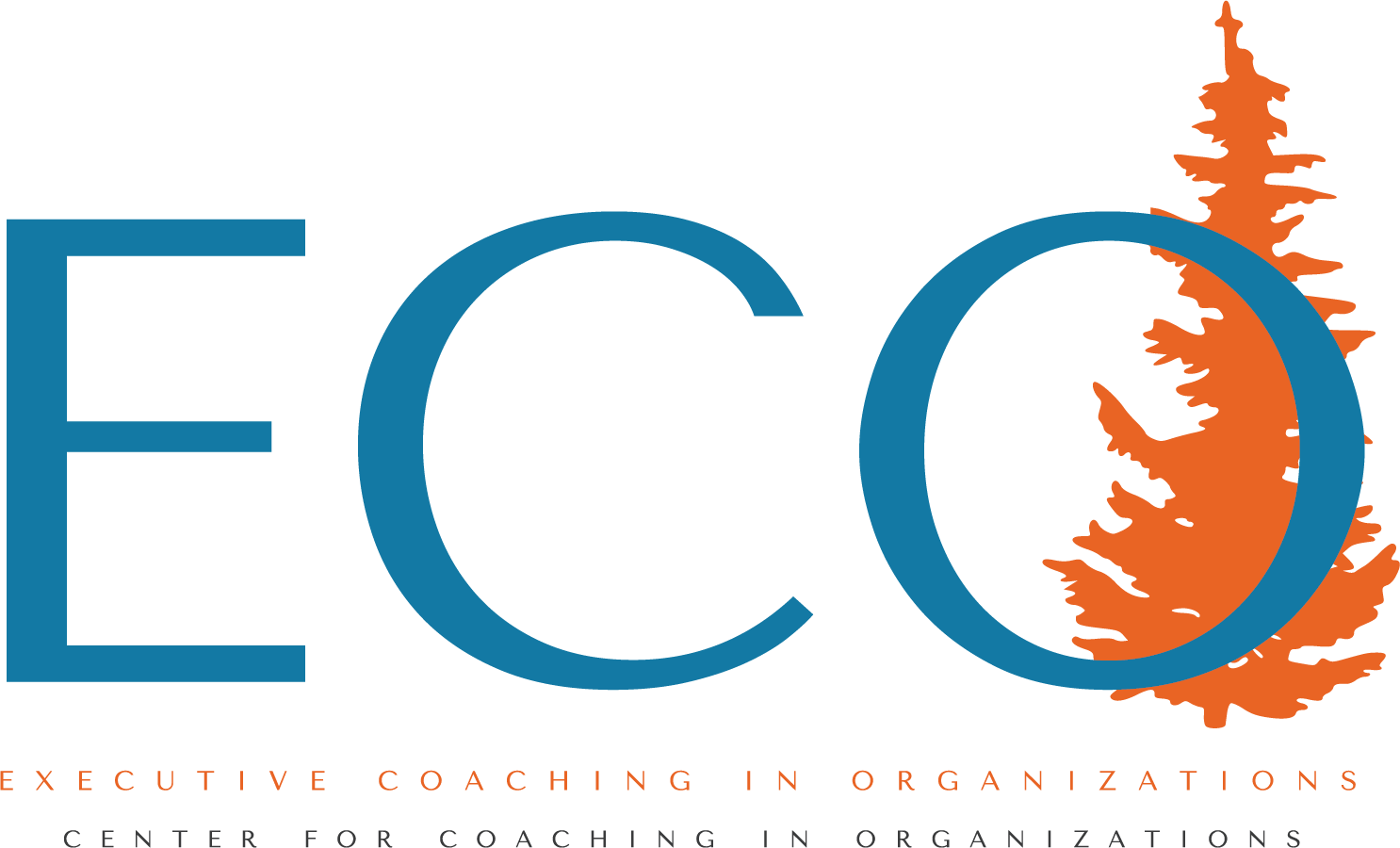 Executive Coaching in Organizations (ECO) Coach Training Program
+ What makes us different
The Executive Coaching in Organizations (ECO, "echo") coach training program is one of the few programs of its kind specifically geared toward coaching in the organizational context, no matter the type of organization. The program has its roots in a scholar-practitioner model – a blend of theory, evidence/research, and practice. Our program includes education and experiences that cultivate a global mindset and cultural humility. We don't graduate branded coaches; we graduate well-prepared coaches who have done the work (reflective and experiential) to shape their own unique coaching philosophies.
CCO seeks to amplify graduates' positive impact by
Inspiring people to find their voice and operate from a place of trust, truth, and love.
Supporting leaders to shift their mindsets to solve big, complex, messy problems with grace and clarity.
Growing leaders who bring the power of coaching to their organizations and the communities they serve.
Expanding access to coaching in organizations for all.
No cookie cutters here!
We hold the coaching profession in high regard and adhere to the coaching code of ethics and the core competencies of the largest global coaching professional association, the International Coaching Federation (ICF). It's important to us that our graduates know what makes coaching different from mentoring, training, advising, counseling, and other seemingly similar practices, and equally important that they can ethically deploy the ICF Core Competencies in service of their clients.
That said, our faculty of seasoned practitioners and coach-educators support students to shape their own coaching philosophy as they apply a coach approach in their unique roles as nonprofit or business leaders, internal or external coaches, educators, and more – all in service of their organizations and their communities.
Just as there are no cookie cutter clients, we honor that there are no cookie cutter coaches, either!
That's what we say, but alumni say things, too.
Alumni cite benefits too many to list, but if you speak with our graduates, all are likely to say they experienced:
Transformational personal and professional growth
Enhanced leadership presence, influence, and impact
Amassing the knowledge, skills, and experiences necessary to pursue International Coaching Federation credentials
An orientation to best practices in the use of coaching in organizations
The growth of a strong and enduring coaching network (beginning with their ECO cohort) with opportunities for sharing, development, and colleagueship during the program and beyond
Exposure to and practice in coaching clients with attention and honor to their lived experiences and identities
A different take on lifelong learning
The deep resounding work of ECO training lasts beyond graduation. All graduates leave with individual professional development plans to continue to sharpen their coaching saws (thanks Mr. Covey!).
And all have embraced the power of learning in community. All of our graduates are still in regular contact with members of their cohorts; some still meet monthly with their coaching circles. All feel a part of something bigger – a community of like-minded, purpose-driven lifelong learners and leaders who know the power of coaching to transform organizations.
+ The ECO program is designed for
Organizational leaders seeking to advance coaching in their organizations
Internal and external executive coaches
Individuals seeking to further develop their capabilities in the being and doing of coaching
HR professionals and organizational leaders seeking to apply coaching skills to their current role
Practicing coaches and consultants, internal or external to an organization, wishing to further strengthen their use of coaching
Organizational leaders seeking a career transition
Counselors and psychologists wanting to diversify their offerings
What might be your role and reason to pursue coach training – especially coaching in organizations? ECO students are all these and more.
+ The ECO Curriculum and Program Outcomes – in summary
CCO's 9-month Executive Coaching in Organizations coach training program, taught in English with in-person and virtual components*, includes:
1. 130 student contact hours, a combination of classroom and fieldwork
2. Four courses:
Introduction to Executive Coaching (in person)
Coaching Foundations: Process, Theories & Skills (in person)
Individual & Organizational Considerations in Coaching (virtual)
Integrating the Theory, Research & Practice of Coaching (in person)
3. Fieldwork:
Coaching circles/supervision (in-person or virtual)
Individual pro bono and paid client work (in-person and/or virtual)
1:1 Mentor coaching (virtual)
Program Outcomes:
Strong foundation in executive coaching and ICF competencies and ethics necessary for passing ICF's ACC assessment
Mentor coach hours and classroom hours required for ICF's ACC certification
Experience with individual and group coaching on a variety of topics
Perspective on how to implement coaching within organizations
*In-person classes will be held in the Twin Cities, MN metro area. Students are expected to attend at least 75% of any in-person courses with limited exceptions. Missed coursework or virtual attendance options will be addressed via a plan created by faculty and student.

+ ECO Application & Interview
Option 1: Complete your PDF application for the ECO program in writing. Email the attachment to Training@Centerforcoachinginorgs.com. We will reply to confirm receipt and share status updates on process and timeline.
Option 2: Submit contact information via PDF attachment and supplement with an Audio/Video recording to express your admissions responses. Send the basic information by email to Training@centerforcoachinginorgs.com and provide a link to your A/V file storage location. We will confirm that we've gained access to your materials and share status updates on process and timeline.
Mutual interviews happen as soon after you apply as we can coordinate calendars. You interview us, and we interview you – it's the beginning of some great conversations! The goal is to help ensure you will get what you want and need from our program.
+ Our Faculty
All faculty are experienced coaches: two ICF MCCs, the rest ICF PCCs or ACCs. (For those of you newer to this jargon, those translate to International Coaching Federation Master Certified Coach, Professional Certified Coach, and Associate Certified Coach.)
Some of us are creators or graduates of ECO, and many of us are graduates of more than one coach training program – hence our respect for you shaping your own coaching philosophy and continuing the lifelong learning path. Our faculty and classroom assistants, as well as our guest speakers, have years of leadership experience in organizations in addition to being coaches in their own rights. We believe there are many routes to becoming great coaches and delivering powerful coaching.
We have hundreds of years of coaching among us, though that's not all that really matters, is it? To read more about our faculty, look here: Meet the Team
+ Your Investment
We don't call it pricing for a reason. There is a dollar cost, of course. And there is an investment of time, energy, courage, curiosity, commitment, and vulnerability, too.
In a scholar-practitioner program, students are required to read, reflect, analyze, discuss, question, and sometimes debate (with respect, warmth, vigor, and good humor); turn in homework (there's no escaping it!); show up to all required program class sessions, circles and mentor calls (your cohort depends upon you being there); practice coaching and being coached in class as well as with practice clients (bringing yourself fully to each role); and be committed to letting the learning change you. Sometimes these are larger hurdles, if taken seriously, than the dollar cost is.
ECO Tuition
ECO tuition is $12,500 plus book costs. There is only 1 required text used in this program and it is available new, used, in hard copy and audio versions. You may be able to borrow a book from a library or a colleague.
We want everyone to have the opportunity to join us on this life-changing journey. If not paid in full, the total program tuition, $12,500, can be paid in installments to meet your needs.  Scholarships may also be available.  Reach out via our contact form to schedule a discussion about possible paths forward.
The CCO "Life Happens" Withdrawal and Refund Process
We believe in the value our program provides to all of our students. And we know life happens and intentions sometimes require change. We want to understand what's happening and explore whether withdrawal is the only option or whether some flexibility on our part will support you to stay enrolled.
So, the first step when life happens is to schedule a supportive conversation with a CCO community member. We promise to listen and explore, honor your decision, and ensure that you know you'll always be welcome in this community.
If withdrawing is the best option for you, we offer a complete refund if you withdraw before orientation and a prorated refund after that. We prorate on a 48-week basis. Any refund due will be issued within 30 days of the program withdrawal date.
+ The ROI for Your Organization
Some of you are planning to have an executive coaching business of your own. Many of you are going to deploy your skills and perspectives within your organizations and communities as leaders and/or internal coaches.
There's a hearty return on investment (ROI) for all of you. Executive coaches and leaders who operate with a coach approach, as well as organizations that use coaching as a strategic advantage demonstrate:
Improved performance and increased engagement for current leaders
Deeper succession bench strength and employees who are more ready for bigger roles
Enhanced skills in decision-making, strategic acumen, and change leadership
Increased individual, team and organization engagement and resilience
Accelerated culture change and team agility
Enhanced competence leading and collaborating in a diverse global context of diversity and polarities

Center for Coaching in Organizations (CCO) is delighted to announce Open Registration for our Executive Coaching in Organizations ICF approved Coach Training Program for Cohort 9.
So you're interested in developing your capabilities in the being and doing of coaching? We get it. CCO exists because each of our partners felt the calling and followed through to seek training in this unique and powerful profession. We've gone on to integrate coaching into our lives as leaders, external coaches, internal coaches, educators and more - each practice as distinctive as a heartbeat. Acting in community we provide coach development and thought leadership to advance powerful coaching in organizations so that both the individual and the organization flourish. 
We invite you to be part of the future creating more effectiveness in organization by applying to learn coaching skills in our Cohort 9. Just think of the possibilities of how people in your or other organizations will change when introduced to Coaching!
Application Process:
Option 1: Complete your PDF application for CCO's Coach Training Program in writing. Email the attachment to Training@CenterForCoachingInOrgs.com. We will reply to confirm receipt and share status updates on process and timeline.

Option 2: Submit contact information via PDF attachment and supplement with an Audio/Video recording to express your admissions responses. Send the basic information by email to Training@CenterForCoachingInOrgs.com and provide a link to your A/V file storage location. We will confirm that we've gained access to your materials and share status updates on process and timeline.

Helpful Info:



The application process includes an interview. This gives prospective students a chance to ask questions, interact with faculty and alumni, and helps to insure a right fit with the upcoming cohort.

The Cohort 9 will learn together using a blended approach of in-person and virtual interactions.

Registration is limited. And yes! We will keep a waiting list for interest in future Cohorts.